µ
MasterOrganizer
This small utility will let you rearrange your Masters from your computer, mobile phone or PDA, in a much faster way that if you had to do so from within your keyboard.
Windows - Windows Mobile - Pocket PC
If you use the Masters to store your setlists, and if your setlist is to be changed a few hours or less before the gig, you can use MasterOrganizer to save time and do so confortably:
If you are using MasterOrganizer on a PC, you can use any USB storage (USB stick) to transfer the files:
Save your Motif ES / S90 ES / MO data as an ALL file on the USB storage ;
Launch MasterOrganizer to rearrange the Masters within the ALL file ;
Load the updated ALL file into your workstation.
If you are using it on a mobile phone or a PDA:
Save your ALL files on a micro SD card and insert it in your mobile device (both files: .W7A and .W8A for Motif ES, .S7A and .S8A on S90 ES, .M7A and .M8A on MO6/8), you may have done so the day before to save time ;
Create a copy of your .W7A, .S7A or .M7A file for backup (optional but recommended) ;
Launch MasterOrganizer to reflect the changes of your setlist and overwrite the file ;
Put the micro SD card into your workstation via an adapter ;
Load the new ALL file, you're done.
The type of adapter depends on what is compatible with the ES worstation series and the kind of memory card that your mobile device accepts. You may also simply use the SmartMedia card if you have something to read it on your PC. The combination of card and adapter is up to you. For example I find it convenient to use a simple micro SD USB reader.
---

Ce petit programme va vous permettre de modifier l'ordre des Masters depuis votre ordinateur, depuis un téléphone ou un assistant personnel, et ce de façon plus rapide que si vous aviez à le faire depuis votre clavier.
Windows - Windows Mobile - Pocket PC
Si vous vous servez du mode Master pour positionner votre setlist, et si vous avez besoin d'en changer l'ordre peu de temps avant le début de la prestation, vous pouvez utiliser MasterOrganizer pour gagner du temps et de l'énergie:
Si vous utilisez MasterOrganizer sur un PC, vous pouvez transférer les fichier de façon tout à fait classique grâce à une clef USB :
Sauvegardez votre fichier ALL depuis le claviers sur la clef USB ;
Lancez MasterOrganizer pour changer l'ordre des Masters ;
Charger le nouveau fichier dans le clavier.
Si vous vous en servez depuis un téléphone ou un assistant personnel :
Sauvegardez les fichiers ALL sur une carte micro SD et insérez-la dans votre appareil mobile (les deux fichiers : .W7A et .W8A pour le Motif ES, .S7A et .S8A pour le S90 ES, .M7A et .M8A pour le MO6/8), vous pouvez faire cela la veille pour gagner du temps ;
Faites une copie de sauvegarde du fichier .W7A, .S7A ou .M7A (facultatif mais recommandé) ;
Lancez MasterOrganizer pour modifier l'ordre des Masters dans la setlist et écrasez le fichier ;
Insérez la carte micro SD dans le clavier grâce à un adapatateur ;
Chargez le nouveau fichier ALL, c'est fait.
Le type d'adaptateur dépend de la compatibilité avec les claviers de la série ES, et le type de carte mémoire supportée par votre appareil mobile. Vous pouvez aussi utiliser la carte SmartMedia si vous avez de quoi la lire dans votre PC. Utilisez ce qui est le plus pratique et qui fonctionne le mieux pour vous. Par exemple j'utilise un simple adaptateur USB de cartes micro SD.
---
For Windows - Download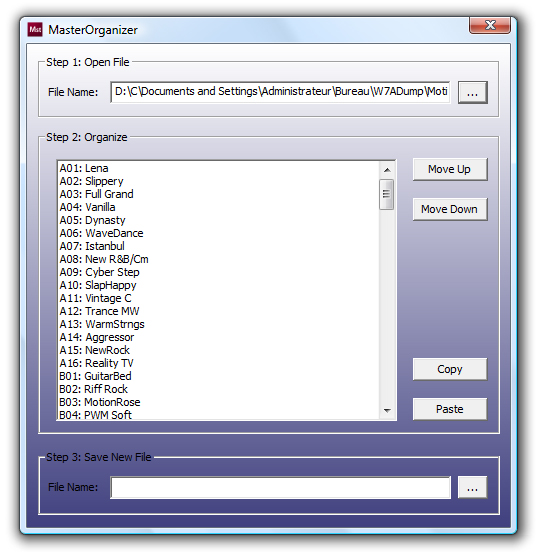 ---
For Windows Mobile - Download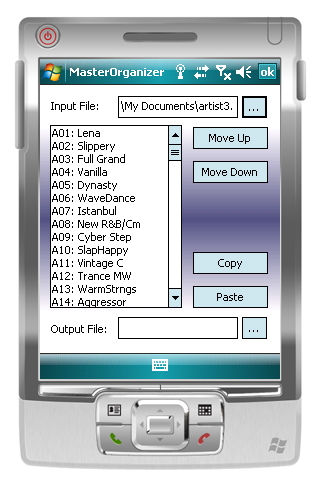 ---
For Pocket PC - Download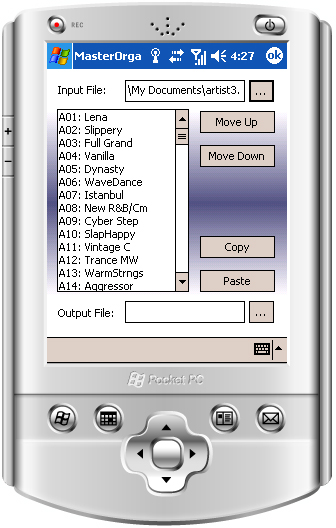 ---
Julien, © 2007